Notice
: Function WP_Scripts::localize was called
incorrectly
. The
$l10n
parameter must be an array. To pass arbitrary data to scripts, use the
wp_add_inline_script()
function instead. Please see
Debugging in WordPress
for more information. (This message was added in version 5.7.0.) in
/var/www/wp-includes/functions.php
on line
5905
Read the Performance Piece in English and Kurdish:



Making the Performance Piece

In April 2016 Muli Amaye and Graham Mort met at the Commonword Writers' centre in St. Barthémely d'Agenais in Lot et Garonne, South Western France. They brought with them the most recent translations of the Kurdish Women's stories with the intention of devising a performance piece. This would eventually exist in English and Kurdish.
First the stories were numbered and then marked up for a range of themes: perspectives, marriage, war and politics, education, migration, women's issues, working the land, etc. Many of the themes overlapped but this method offered a way into the work. Using the marked-up stories as master copies, a set of duplicates was dissected using a scalpel to isolate key phrases or sections of narrative. The resulting narrative 'soundbites' were grouped using the colour-coding system, then pasted onto A4 sheets in a rough order.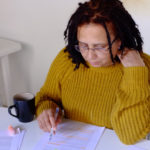 Graham and Muli then typed up the resulting work in the form of a poem, with a number of main 'movements'. Within each movement, short sections of the text were envisaged as the voice of one of five performers. Although this sense of the performance was somewhat speculative at this stage it helped to anticipate the vocal dynamic of the piece. By day four a coherent version of the poem had been assembled, which Graham later worked on, with Muli returning to the original stories to make prose fiction versions of them, as agreed with the participating women.
Creating coherence and melding essential aspects of the stories without distorting the meaning of the words the women used was a delicate process, but the results can be viewed here in English and Kurdish.